DRAFT: This module has unpublished changes.
In the Classroom: Real Apps for Real Global Health
POSTED ON: July 6, 2017TOPICS: in the classroom
Stakes are always high for students presenting final projects. But when the audience is a packed room of public health professionals, and the projects will be piloted in the real world by real partners, "it takes it to another level," says Faith Umoh.
Umoh and her classmates concluded their course, GH804: Using Mobile Technology to Improve Health Outcomes, with the fifth annual Mobile Health Showcase at Dimagi, a software social enterprise based in Cambridge, on May 10. Partnering with Dimagi and using their mobile platform CommCare, six groups of students created apps to improve the effectiveness of the work their client organizations are doing on the ground around the world.
"This class is so much fun," says Associate Professor of Global Health James Wolff, who leads the course. "We have real clients who really want the mobile apps that we're developing, and I think that changes everything in the educational paradigm, because students have an opportunity to do real work for real organizations."
DRAFT: This module has unpublished changes.
Posted on: October 14, 2016 Topics: in the classroom, malaria, maternal and child health, vaccines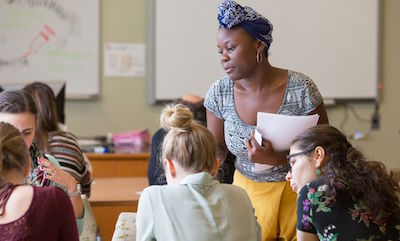 Weyu Hodge instructs her classmates in an exercise using malaria case studies.
The Peace Corps volunteers have almost reached Nkhotakota, a town in central Malawi, when a local woman stops them. "The bridge is broken," she says.
The volunteers explain that they're carrying six shipments of vaccines in a plastic bag cooled with ice packs, struggling to keep the vaccines from getting too warm on the 15-hour trip from Lilongwe, the capital. The woman says she will let them cross the bridge if they give her a vaccine for her child. They offer money instead, and the woman calls over a man standing nearby. He claims to be a police officer and threatens them. They offer a bigger bribe, and are allowed to cross.
Relieved, the volunteers arrive at the community health clinic—Room CT460 of the Medical Campus. They check the "vaccines"—a pack of popsicles, just beginning to melt after the long trip from the freezer one floor below. The teams of "volunteers" are SPH students in GH887: Planning and Managing Maternal and Child Health Programs in Developing Countries, and so are the "Malawian" couple from the bridge.
Each week in GH887, a different team of students leads a full class session. Assigned a central topic in maternal and child health, the team choses a country to provide the backdrop for the issue. They then create an entire workshop, providing background information about the health topic in their chosen country, determining workshop objectives, and developing practice-based learning activities.
"We try to simulate situations that students will likely encounter when they go out in the field, so our metaphor for these workshops is around training Peace Corps volunteers," says James "Wolffy" Wolff, associate professor of global health, who co-teaches the course with Rachael Bonawitz, assistant professor of global health.
Four or five SPH graduates go into the Peace Corps each year, Bonawitz says, "and they write us and say, 'Thank you, this is exactly what I had to do when I landed in Albania, this is exactly what I had to do when I got to Peru,' so we know it works for them."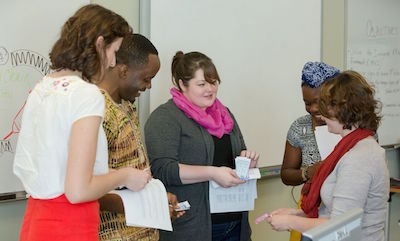 The students leading this week's workshop, from left: Nikolina Boskovic, Ayobami Olanrewaju, Amanda Good, and Weyu Hodge, with Assistant Professor of Global Health Rachael Bonawitz.
"Even if the students don't become Peace Corps volunteers," Wolff adds, "the training and facilitating skills they are learning are fundamental to maternal and child health jobs both globally and in the US."
Students agree.
"It's very necessary for us to have that hands-on practice, especially for an issue that's not really prevalent here in the United States," says Weyu Hodge, one of the students who led the Malawi workshop. Setting the workshops in a specific country, Hodge adds, helps students put aside generalizations and look at the facts on the ground: "It's important to think of it in context."
Also, Wolff says, "It's just more fun."
Another recent scenario involved a demonstration of malaria rapid diagnostic tests (RDTs). Using case studies of children who might have malaria, students took on the role of clinic health workers. They evaluated the symptoms and diagnostic information from the RDTs, then decided courses of treatment for malaria—or, in some cases, entirely different diseases.
In another exercise, the "Peace Corps volunteers" designed public awareness campaigns around immunizing children and the proper use of mosquito nets, taking into account challenges like low literacy rates in these regions of Malawi, distrust of medical workers from outside the community, and the widespread use of mosquito nets for fishing.
The vaccine transportation scenario helped illustrate the concept of the "cold-chain," a system of moving vaccines through a country while keeping them at the optimal temperature. Getting stopped at the bridge was only the last of a series of challenges in the simulation, including developing budgets and selecting supplies with limited funds, writing memos, and plenty of waiting around—for instructions, money, visas, and even a bus driver.
Wolff says such role-playing could have helped him during his own stint in the Peace Corps in Mali some years ago. When he arrived in the country, the first thing he did was drive 11 hours transporting vaccines. He arrived at his destination exhausted and went to bed. The next morning, the vaccines "were in a puddle of water," too warm to be used.
"It was a bad start," he says. "If I had taken this workshop, I would have avoided that."
DRAFT: This module has unpublished changes.
Click here for the link to the post
International health professor documents learning in unique ways
October 11, 2012 at 4:14 pm
One of the greatest challenges facing educators is to document and assess the learning that takes place in and outside the classroom. For several years Professor James Wolff at the School of Public Health has found Digication e-portfolios to be an exciting and innovative way of reflecting on the learning experience, documenting the competencies and skills acquired during a course, making learning visible by creating a permanent record of classroom activities, and assessing the progress and competence of students.
Wolffy, as he is known by colleagues and students, teaches several courses for master's students in the School of Public Health, all of which have successfully integrated e-portfolios. His first experience with e-portfolio was in IH 790, Leading Organizations to Achieve the Millennium Development Goals. In this course students reflected on the leadership skills they are acquiring and the e-portfolio was used for both formative and summative evaluations.
In IH 744, Program Design for International Health, taught with Monita Baba-Djara and Cristin Morona, students used e-portfolio to collect and present evidence of the specific program design skills they were learning in the classroom and reflect on the team process in which they were engaged. Subsequently they modeled this type of reflection by providing their own reflections of what is taking place in each class on a class e-portfolio linked to the students own individual e-portfolios.
In IH 887, Developing and Managing Maternal and Child Health Programs, students were not required to keep their own e-portfolios, rather the e-portfolio was used to document course activities and present the work done by student teams. The 2012 e-portfolio for IH 887 currently under development by the 2012 IH 887 class includes a student generated on-line textbook and a student-faculty collaboration on a Facilitators Guide for an MCH Training Program:Planning and Managing Child and Maternal Health Programs in Low Resource Settings.
Most recently, in IH 743 Implementing Health Programs in Developing Countries: Making Programs Work, taught with Associate Professor Malcolm Bryant, students created their own e-portfolios to record bi-weekly reflections. Students link their individual e-portfolios to the course e-portfolio where the professors collect and present their own reflections of the class in multiple formats including texts, photos, and videos. The class e-portfolio is also the home for the four consultant team e-portfolios where the course teams chronicle and display the work that they are doing for their clients.
For Wolffy keys to success have been to introduce e-portfolio on the first day of class, to dedicate time for each student to create their own e-portfolio and to create regular assignments requiring students to reflect on what they are learning in the class. He is careful to provide a structure for student reflections linking assignments to key issues covered in class, but not to be too prescriptive. He has successfully encouraged widespread use of e-portfolio in the International Health Department and its use throughout BUSPH continues to grow.
DRAFT: This module has unpublished changes.